What People Are Saying About DogWatch
Nancy B.
Lily and Daisy are doing great with the fence. I truly never thought it would be that quick and easy to train them. I also liked your GENTLE way of training them. I would definitely recommend you and your product to anyone who is looking into purchasing a hidden fence system. Thanks again.
We want to hear from you! Write us a review on Google+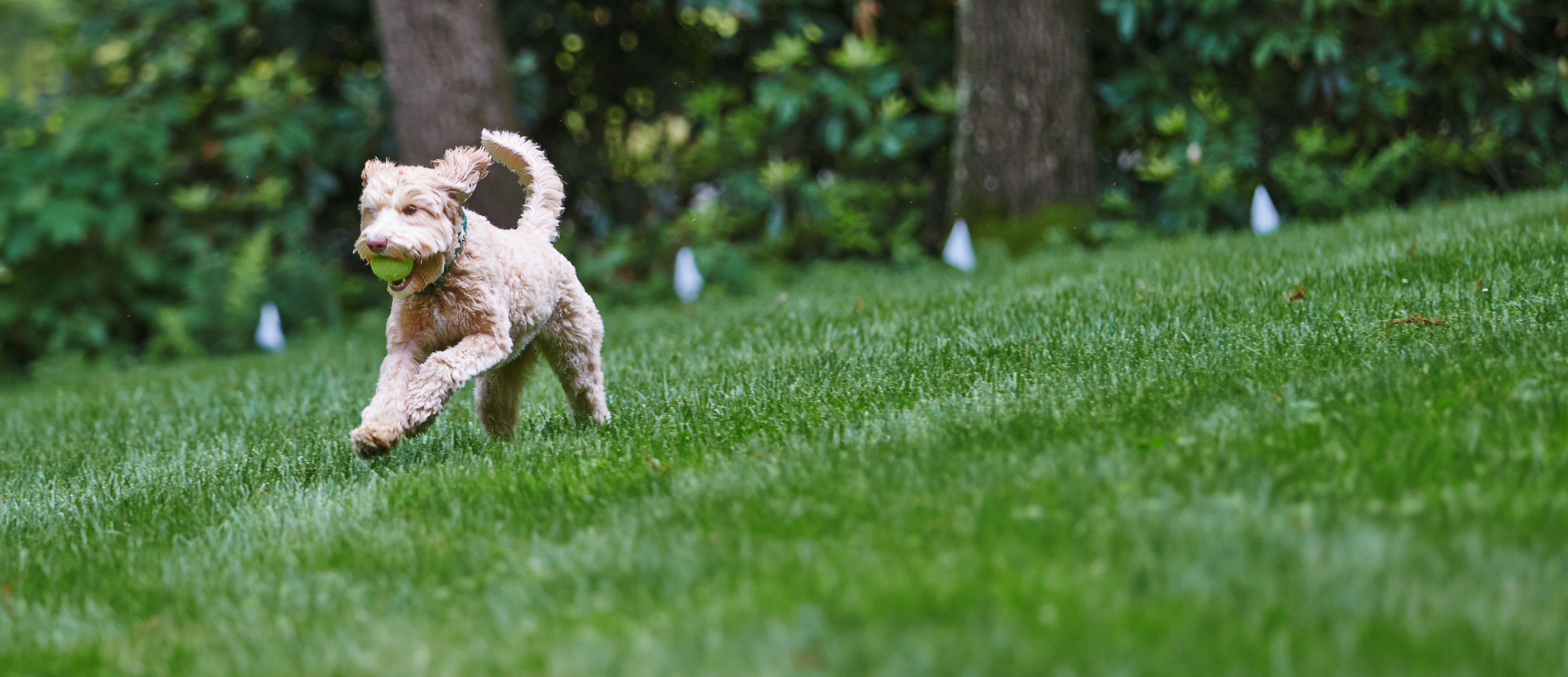 Fred S.  – Shippensburg, PA
Dear Mr. Perry,

The letter is to express my tremendous satisfaction with DogWatch Hidden Fence. I have had the DogEatch Fence installed for almost two years. I have two miniature Schnauzers. I have two doors with dog openings. The dogs go in and out of the house without anyone having to open the doors. The dogs go outside without anyone having to make sure the dogs do not go off of the property.

I had a certain area of the yard fenced off to make sure the dogs can only go to the bathroom in that area. I look at my neighbor with his chain link fence having to trim around the fence and rake leaves. I on the other hand just get on my lawnmower and just go. No trimming necessary.

Having this hidden fence installed was the greatest thing I have ever done.
R. Martin P.
Dear Mr. Perry

May I commend to you your salesman Bob Blan. Recently I had an occasion to consider purchasing an invisible fence. Your company was the first I called. Bob answered the phone, and when he explained the FM signal and everything about DogWatch fence (you can tell he truly believes in his product; he had just come from a meeting of the DogWatch company), I told him to come out and give me an estimate, and I decided on the spot to go with your company because of his cordiality and expertise.

Men like Bob make your company #1!
Laura R. – Waynesboro, PA
Mr Perry,

I was first impressed that the owner himself did the estimate, I spoke w/Randy and his wife at the builders show and they both took a lot of time explaining how the fence worked and what to expect. He arrived within a day or two for the estimate and was very informative and friendly. It was installed w/in a week. The installer was timely and so helpful. His personal experience with the system was a bonus. He placed it just where we wanted and then trained the dog (and me) for what was to come. So far we are very pleased w/ the quick results. I have true peace of mind knowing our Sophie is safe and can roam our big yard. Thank You!!
Carol K.
Dear Mr. Perry,

There are not enough good things to say about your product, the "DogWatch" fencing unit.

Our family has three Labrador dogs; Rock, Levi and Hershey Bear, which we naturally think the world of. Having raised them from birth, we originally started with another similar system after they had reached the age of being able to "wander". After several incidents and close calls, we felt the need to divert to another more reliable system, which ultimately was your "DogWatch System".

Since using the "DogWatch" we now have no fear or scare of leaving our dogs alone.

We would (and have) recommended the system to friends, etc. Also our questions and concerns were always answered in a professional and caring way whenever they arose.

Again we thank you from the bottom of our hearts!
Ricky & Lenda N. – McConnellsburg, PA
We are very happy and pleased with our "hidden fence". Sophie is still learning her boundaries, but is pretty much trained. The fence gives her plenty of freedom and we do not have to watch her like a hawk. I tell everyone at work about your amazing fence!
Jennifer V. – CVAS
Dear Mr. Perry

I wanted to thank you so much for donating a dog run to the Cumberland Valley Animal Shelter. Before we could only take one dog w/us because we would have to keep him on a leash at all times, now we can bring more dogs along. Please know that your dog run has not only made our jobs a little easier, but could be directly responsible for finding an animal their forever home, which in my opinion, is the best gift of all. From all of us at the shelter, both human and animal, Thank You.
Bonnie M. – Waynesboro, PA
Thanks so much for all your help with getting our DogWatch fence installed. The gentleman that was here was wonderful, everything is great.
Amanda S. – Fayetteville, PA
Just wanted to thank you for the great customer service! The training is going great, the dogs will not walk anywhere near the flags for training. This will be a blessing for the little ones. They will love running around the yard without being tied to a leash.... Thank you so much and we will keep you posted on how they are doing when we release them from the leashes for the first time!
Jill K.
Thank You for your swift action in repairing our DogWatch fence. It's nice to know there is someone local to call when you need help.
J. Brakenwagen
All representatives of DogWatch were very friendly and professional. We needed the product in a couple of days and they made it happen! We were pleased and happy with DogWatch with their agents, installers and the completed product!
Barbara H. – Fayetteville, PA
Mr. Perry

For my husband's 50th birthday, I gave him a golden retriever puppy named Ernest T. Bass (Ernie). Two years later, against my better judgement, we brought home Ernie's little brother, Otis Campbell. Ernie took well to raising his little brother the first year, and both enjoyed having the run of our yard, protected by the DogWatch fence. But in his second year, as Otis set out to make a name for himself, I forgot how much trouble an 85 lb puppy could be. Our fence encircled our entire yard, but that didn't keep Otis away from the house and out of the mulch beds that surrounded the entry way to our home. Otis loved to re-arrange my flowers lining the walkway to our front door, and regularly left his paw prints all over the front glass doors as a signature for his handiwork. He also developed a taste for my azalea bushes. After numerous trips to the nursery and countless re-plantings, I told my husband that someone would soon be leaving the household - Otis or me! Concerned that I might not like the outcome (as my husband believes his "boys" can do no wrong), I called upon Randy Perry to help "save our marriage". Randy promptly came by the house and was able to install a fence within a fence that keeps both Ernie, but especially Otis, away from the house where they can stay out of trouble, and we can be a happy family once more. Thank You Perry Fence Company!
Tell Us Your DogWatch Story!
We'd love to hear from you, too! Please consider filling out our customer feedback survey to tell us about your experience with DogWatch.